Lash And Brow Studio Burleigh
Welcome to Lash & Brow Exclusive – a leading, luxury lash and brow studio in Burleigh. We offer a wide range of premium beauty treatments for the busy, modern woman to feel empowered and embrace her natural beauty.
From brow restoration, design and cosmetic tattooing to lash lifts, tints and extensions, our talented team have all your beauty needs covered.
Lash And Brow Studio Services
Keep your brows natural, tidy and symmetrically balanced with our precise waxing and shaping treatments. We can shape and define brows to give you a look that compliments your face shape and highlights your natural beauty.
Cosmetic Eyebrow Tattooing
Cosmetic tattooing takes brows to the next level. It's the easiest way to get gorgeously sculpted, natural-looking brows with lasting results. Choose from our signature Burleigh Brow, Ombre Brows, Microblading and Mature Brows.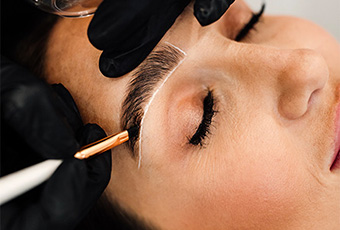 As experts in brow design, our beauty therapists use tint and Henna in customised shades to add colour and volume to brows and eliminate the need for brow products. We can shape, wax and trim your brows to perfection or create whole new ones.
Eyebrow lamination is the hugely popular beauty craze to get you thicker, fuller, fluffier supermodel brows with a natural finish. We use a chemical solution to lift brow hairs and create a beautifully defined arch that's long-lasting and easy to maintain.
Our lash lifts use Re-GEN to safely and effectively give your natural lashes a sweeping curl to freshen and brighten your appearance. Our no-sting lash tints add definition to lashes and eliminate the need for mascara for an all-round flawless, low-maintenance and long-lasting effect.
From Classic extensions for subtle definition to Russian Volume for seriously dramatic lashes. Our award-winning lash stylist uses the latest lash techniques to expertly apply safe, lightweight synthetic silk lashes customised to suit your eye shape.
Perfect your pout with lip cosmetic tattooing. We create customised shades to match your natural lips and give them a pop of smudge-proof colour that'll keep them beautifully blushed 24/7.
Here's Why You Can Trust Lash & Brow Exclusive:
High-quality treatments with premium products
Latest tools and highly advanced techniques
We're a sustainable salon who uses eco-friendly products and minimises plastic and salon waste
Exceptional customer service and personalised beauty solutions
Parking Information
Paid parking is available just outside the salon. Or, you can park in nearby Alex Black Carpark on Ocean St which has all-day parking for a flat fee of $5. All-day parking is required for longer beauty treatments, such as cosmetic tattoos. It also gives you the perfect opportunity to turn your salon trip into a full day outing. Our salon is right in the heart of Burleigh's bustling centre and is close to local cafés, restaurants, shops and just a few tantalising streets away from beautiful Burleigh Beach!
Lash And Brow Studio Burleigh Heads
Ready to make a visit to the best lash and brow studio in Burleigh? Book an in-salon consultation with our friendly specialists today or choose a virtual consultation if you can't make it in person or are travelling long-distance. We look forward to meeting you!
Contact our beauty experts today