Hello, Beautiful…We've Been Expecting You!
A leading Gold Coast lash and brow studio based in Burleigh Heads. We offer a suite of luxury beauty treatments with premium products, high-end service and expert technicians committed to delivering perfect results every time.
We specialise in creating gorgeous brows and lashes to suit your face and enhance your natural beauty. Our highly qualified team combines their creative talent with state-of-the-art tools and advanced techniques to transform your features and give you that boost of confidence you deserve.
Get the star treatment when you visit our salon for one or more of our beauty services:
A beautifully shaped brow can do wonders for your self-esteem and open up your entire face. We gently wax and tweeze brows into the perfect, defined shape for women, men and kids.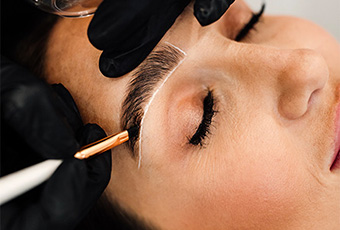 Cosmetic Eyebrow Tattooing
Brow tattooing is the no-fuss way to get long-lasting brows that look natural and are always perfectly groomed. Choose from our signature Burleigh Brow tattoo, Ombre Brow tattoo, Microblading Brow tattoo and Mature Age Brow tattoo.
We offer lip tattooing in custom shades to enhance your natural lip colour and give you a perfectly full pout that won't wipe off!
Give your natural lashes an instant root lift for bigger, fresher and more youthful eyes. Our advanced solution is vegan and cruelty free and packed with antioxidants to help promote lusciously long and healthy lashes.
From natural to dramatic, we use the highest quality synthetic silk lashes to define your eyes with safe, comfortable and precise application.
We're A Sustainable Salon!
We're proud to say we're a sustainable beauty salon and strive to do our part for the environment. As part of the Sustainable Salons initiative, we make eco-conscious decisions, such as minimising the amount of plastic used in the salon and using eco-friendly products and packaging wherever possible.
Parking Information
Paid parking is available along the street outside Lash & Brow Exclusive. Alternatively, you can park in nearby Alex Black Carpark on Ocean Street with all-day parking for $5 flat rate. All-day parking is needed for longer beauty services such as cosmetic tattooing. It's also the perfect excuse to bring your bestie and make a day out of your salon trip by exploring beautiful Burleigh Heads!
Ready To Embrace The New You?
We're passionate about empowering modern women to look and feel their absolute best. Book your consultation now with Lash & Brow Exclusive and one of our lovely team members will be in contact with you shortly. We also offer virtual consultations for those who can't come in person or are travelling long distances. We can't wait to meet you!
Contact our beauty experts today